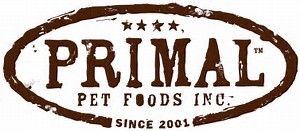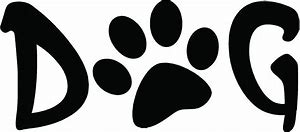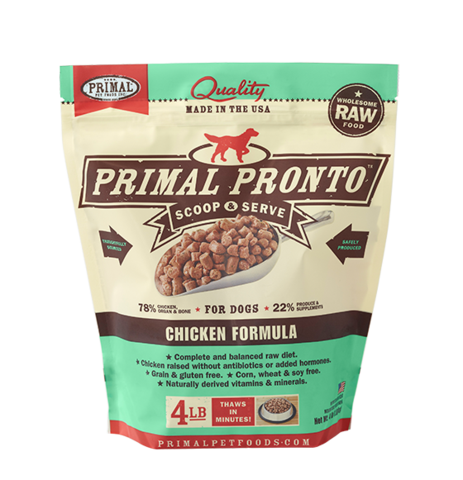 Raw Frozen Canine
Pronto
Chicken Formula
AVAILABLE IN 4lb BAGS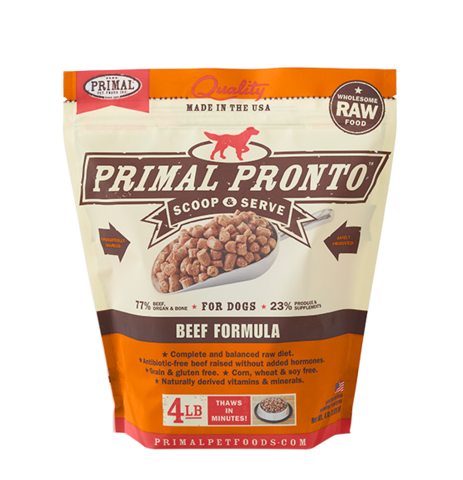 Raw Frozen Canine
Pronto
Beef Formula
AVAILABLE IN 4lb BAGS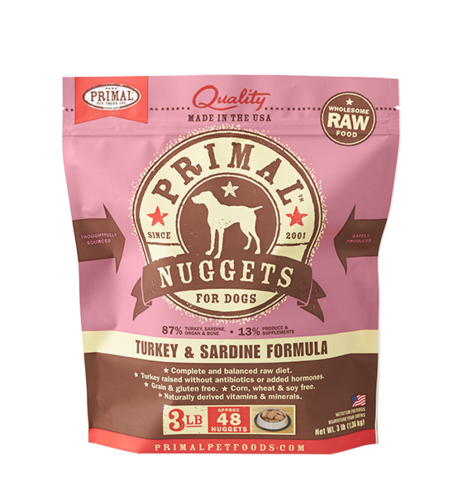 Raw Frozen Canine
Nuggets
Turkey & Sardine Formula
AVAILABLE IN 3lb BAGS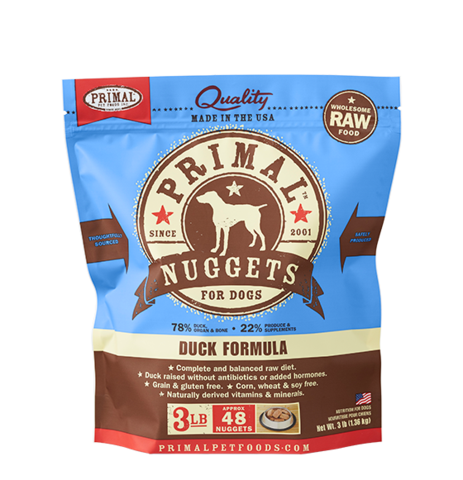 Raw Frozen Canine
Nuggets
Duck Formula
AVAILABLE IN 3lb BAGS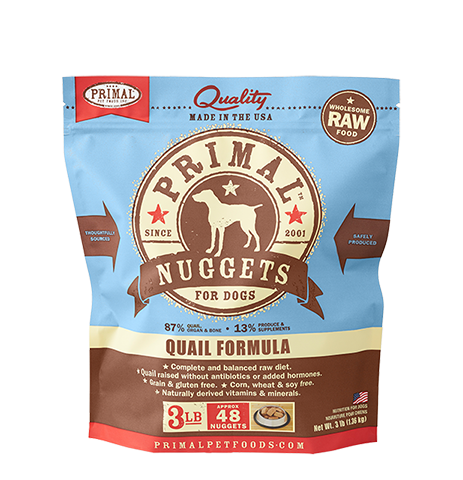 Raw Frozen Canine
Nuggets
Quail Formula
AVAILABLE IN 3lb BAGS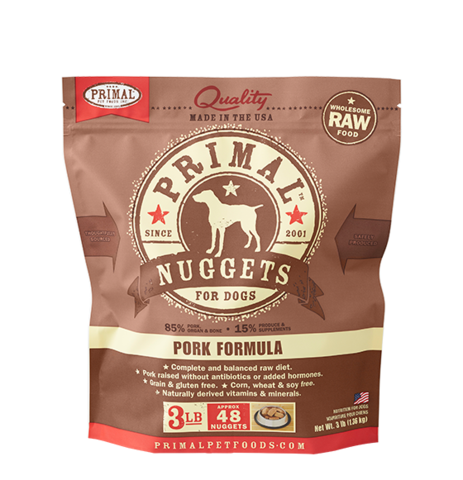 Raw Frozen Canine
Nuggets
Pork Formula
AVAILABLE IN 3lb BAGS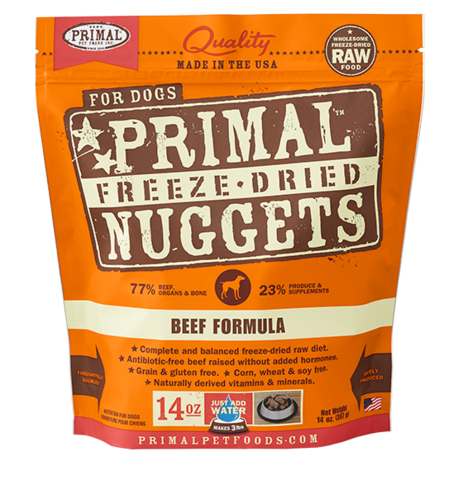 Raw Freeze-Dried
Canine Duck Formula
AVAILABLE IN 14oz AND 5.5oz BAGS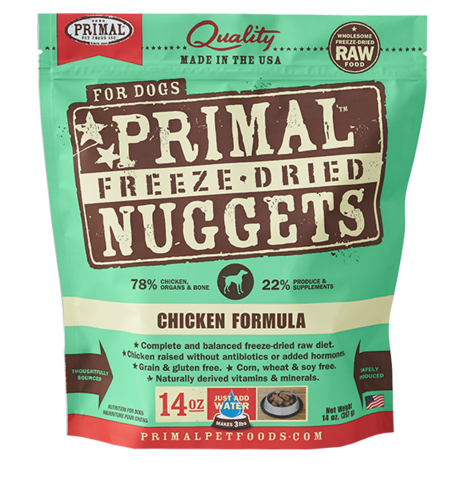 Raw Freeze-Dried
Canine Chicken Formula
AVAILABLE IN 14oz AND 5.5oz BAGS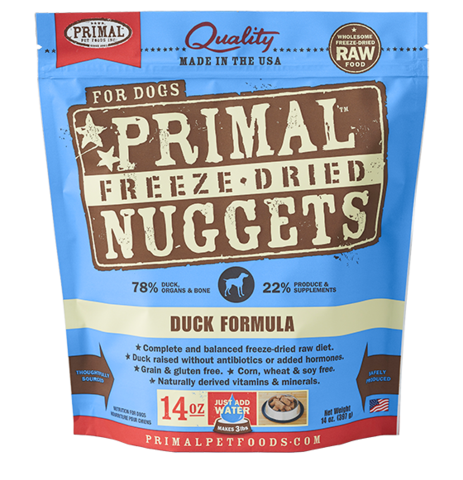 Raw Freeze-Dried
Canine Duck Formula
AVAILABLE IN 14oz AND 5.5oz BAGS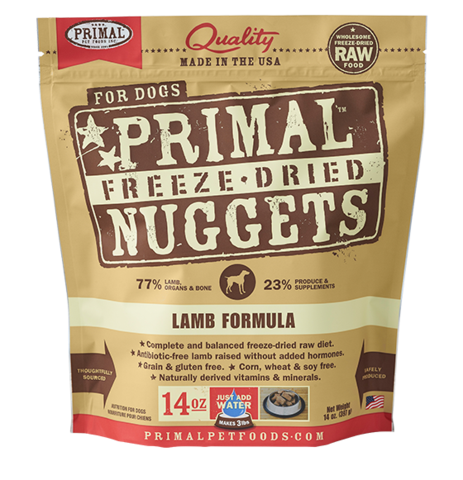 Raw Freeze-Dried
Canine Lamb Formula
AVAILABLE IN 14oz AND 5.5oz BAGS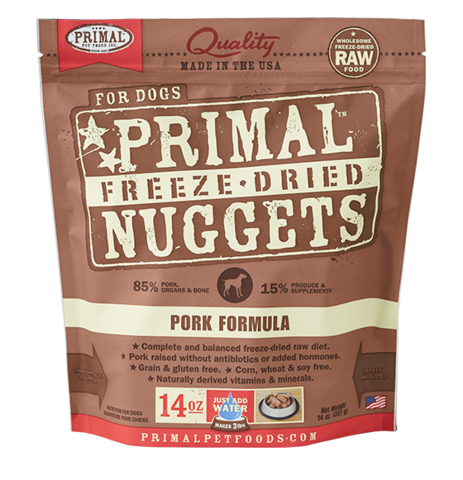 Raw Freeze-Dried
Canine Pork Formula
AVAILABLE IN 14oz AND 5.5oz BAGS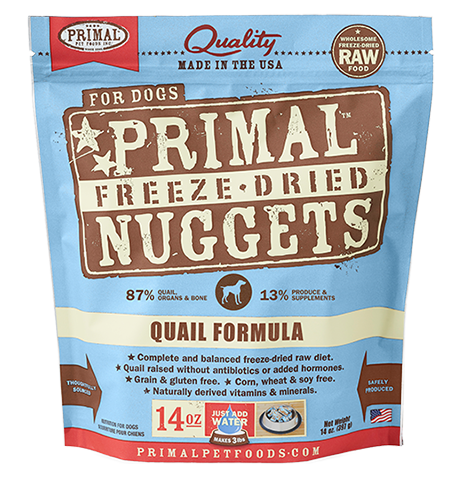 Raw Freeze-Dried
Canine Quail Formula
AVAILABLE IN 14oz AND 5.5oz BAGS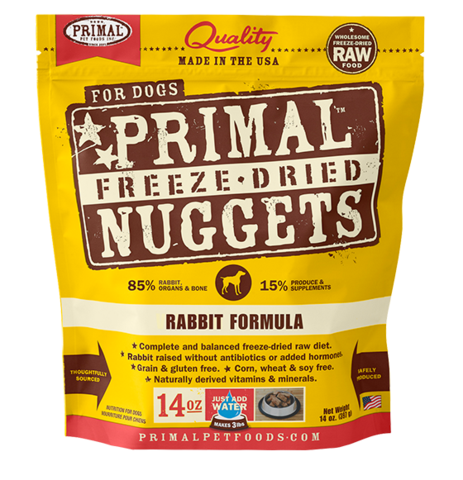 Raw Freeze-Dried
Canine Rabbit Formula
AVAILABLE IN 14oz AND 5.5oz BAGS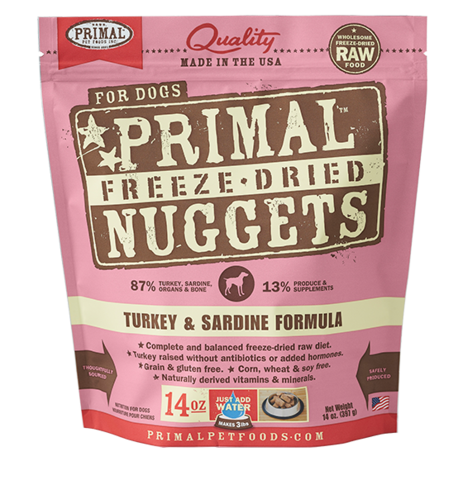 Raw Freeze-Dried
Canine Turkey & Sardine Formula
AVAILABLE IN 14oz AND 5.5oz BAGS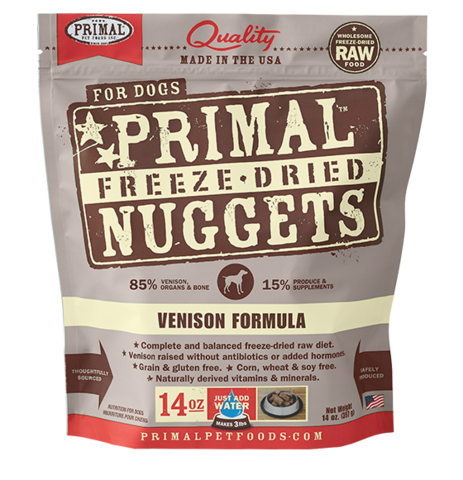 Raw Freeze-Dried
Canine Venison Formula
AVAILABLE IN 14oz AND 5.5oz BAGS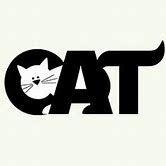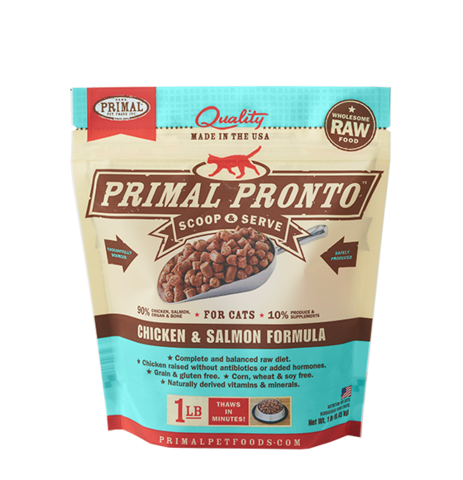 Raw Frozen Feline
Pronto
Chicken & Salmon Formula
AVAILABLE IN 1lb BAGS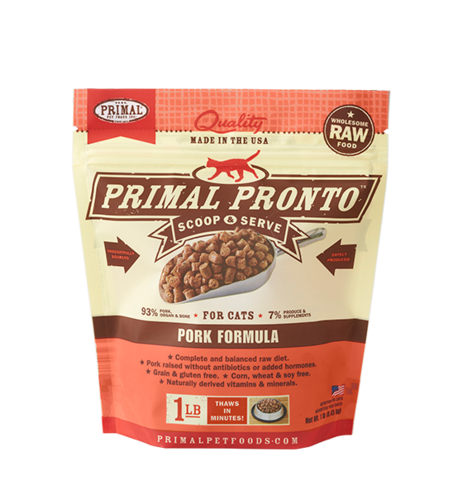 Raw Frozen Feline
Pronto
Pork Formula
AVAILABLE IN 1lb BAGS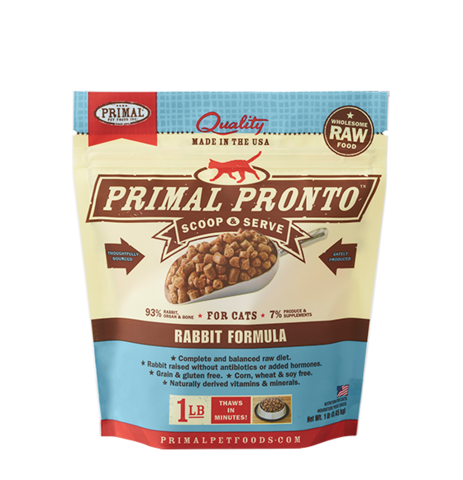 Raw Frozen Feline
Pronto
Rabbit Formula
AVAILABLE IN 1lb BAGS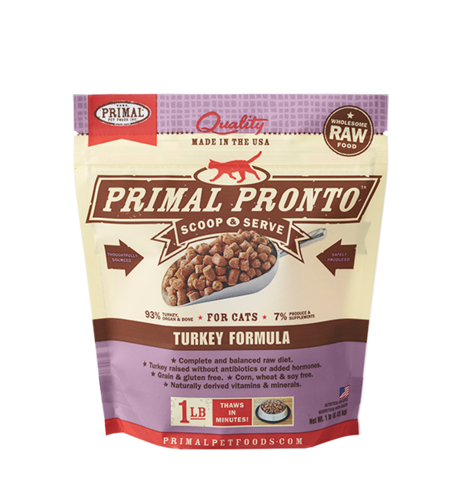 Raw Frozen Feline
Pronto
Turkey Formula
AVAILABLE IN 1lb BAGS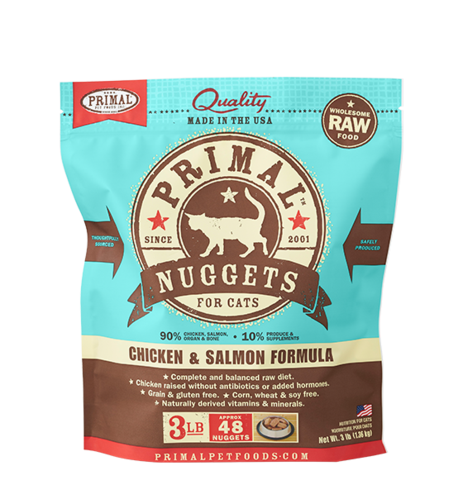 Raw Frozen Feline
Nuggets
Chicken & Salmon Formula
AVAILABLE IN 3lb BAGS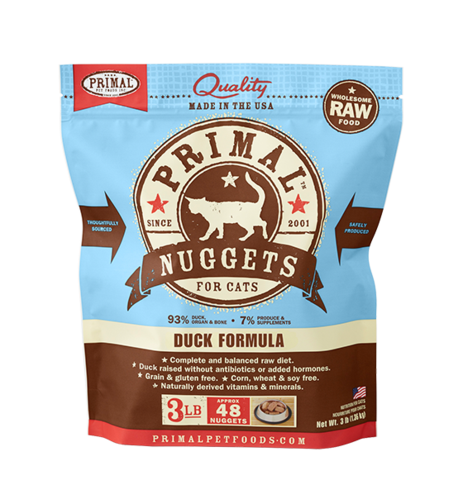 Raw Frozen Feline
Nuggets
Duck Formula
AVAILABLE IN 3lb BAGS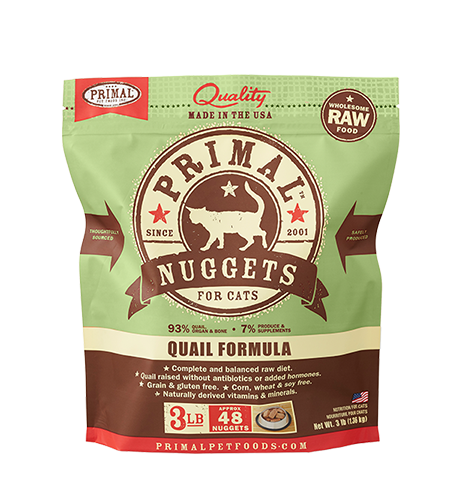 Raw Frozen Feline
Nuggets
Quail Formula
AVAILABLE IN 3lb BAGS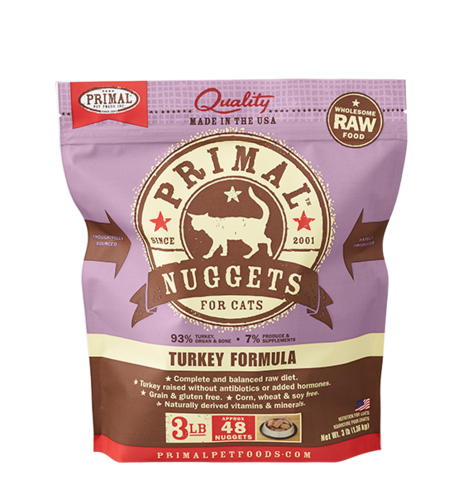 Raw Frozen Feline
Nuggets
Turkey Formula
AVAILABLE IN 3lb BAGS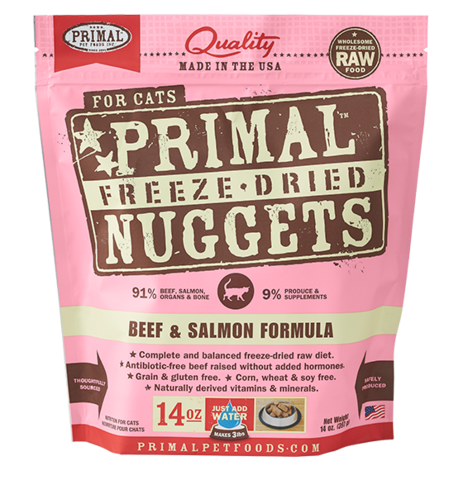 Raw Freeze-Dried
Feline Beef & Salmon Formula
AVAILABLE IN 5.5oz BAGS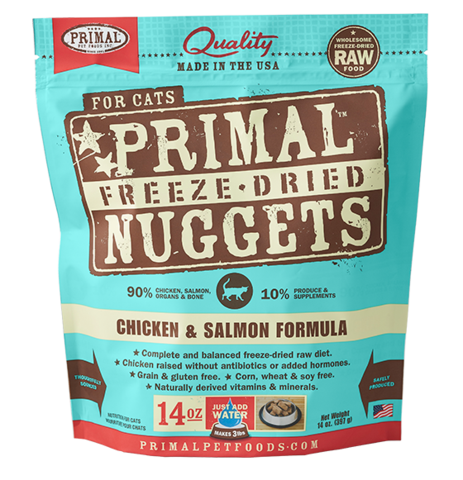 Raw Freeze-Dried
Feline Chicken & Salmon Formula
AVAILABLE IN 5.5oz BAGS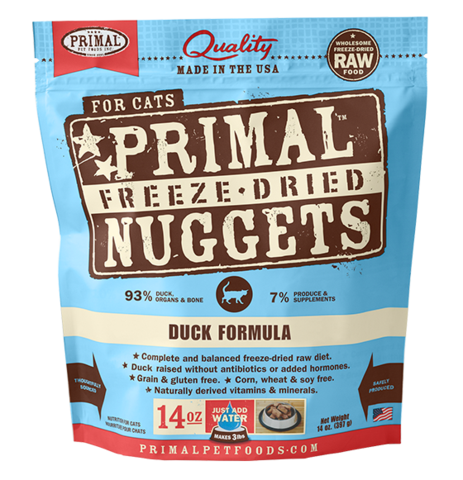 Raw Freeze-Dried
Feline Duck Formula
AVAILABLE IN 5.5oz BAGS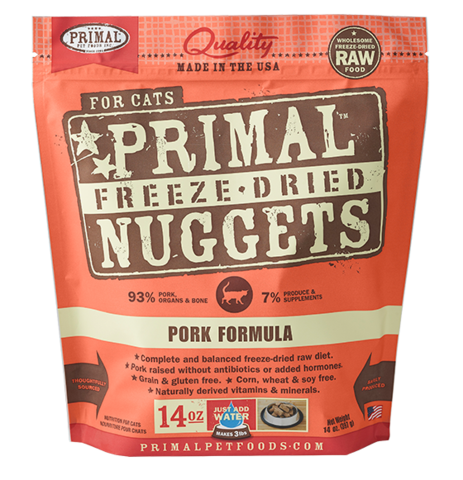 Raw Freeze-Dried
Feline Pork Formula
AVAILABLE IN 5.5oz BAGS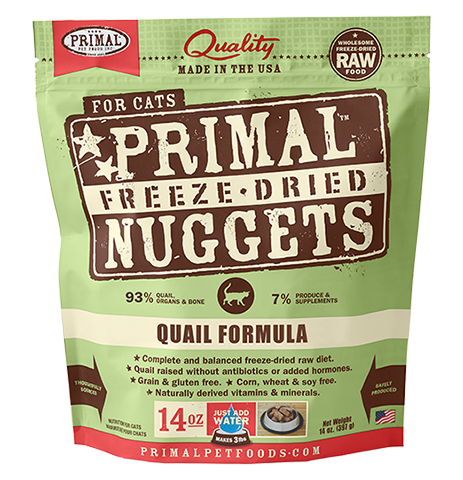 Raw Freeze-Dried
Feline Quail Formula
AVAILABLE IN 5.5oz BAGS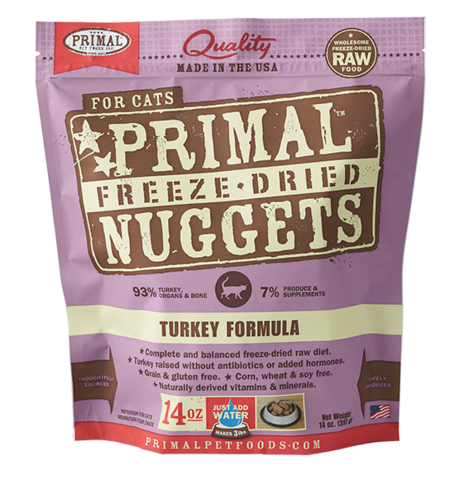 Raw Freeze-Dried
Feline Turkey Formula
AVAILABLE IN 5.5oz BAGS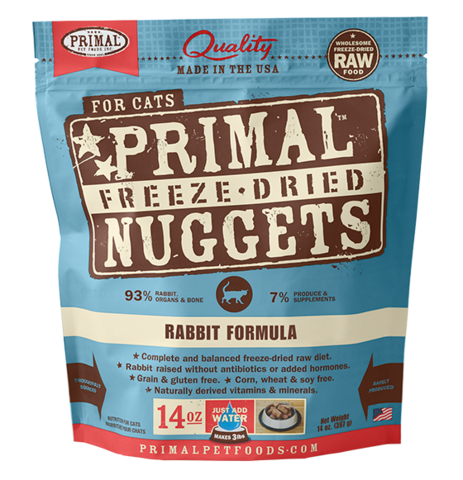 Raw Freeze-Dried
Feline Rabbit Formula
AVAILABLE IN 5.5oz BAGS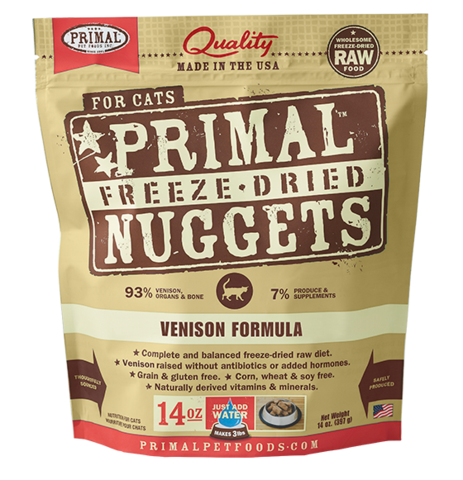 Raw Freeze-Dried
Feline Venison Formula
AVAILABLE IN 5.5oz BAGS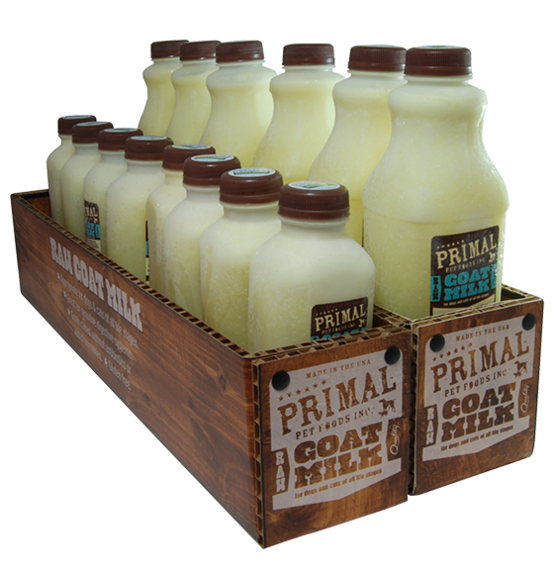 Frozen Raw Goat Milk
AVAILABLE IN 32oz AND 16oz BOTTLES
Primal now offers an additional way to elevate your pet's health with our raw goat milk. Raw goat milk can most easily be absorbed by a variety of mammals and is known as the universal milk, as it contains vitamins, minerals, electrolytes, trace elements, enzymes, protein, and fatty acids.
As with all of our raw products, we recommend a slow transition when introducing new food products to any pet. We recommend starting with ¼ of the daily feeding quantity as an introductory portion.
Primal raw goat milk is a great digestive aid as it helps pets obtain their daily need for moisture. Dogs' and cats' bodies are about 65% moisture and unlike humans, they are designed to obtain the majority of their water from the foods they eat. By adding raw goat milk (79% moisture) to your pet's diet, they will be gaining needed moisture as well as the benefits from raw nutrients
Ingredients: Raw Goat Milk, Dried Lactobacillus lactis fermentation product, Dried Lactobacillus acidophilus fermentation product, Dried Enterococcus faecium fermentation product, Inulin, Organic Turmeric (color), Organic Ginger, Organic Cinnamon.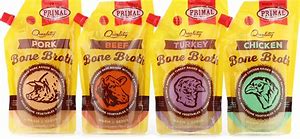 Frozen Bone Broth
AVAILABLE FLAVORS: CHICKEN, TURKEY, PORK AND BEEF
Bone Broth is a wholesome addition to any feeding regimen. When served on its own, added to commercial pet food, or along with any complete, balanced Primal Formula, Bone Broth adds necessary moisture and beneficial nutrients into your pet's diet. With key benefits including digestion and liver support, hydration and moisture, joint health, and more, supplementing with Bone Broth is an easy way to keep your pet hydrated and healthy.
Primal Bone Broth is appropriate for dogs and cats at all stages of life.
Storage and Feeding Suggestions:
Primal Bone Broth is sold frozen and should be stored in the freezer until ready to use. Bone Broth comes in a 20oz easy pour resealable package and should be placed in the refrigerator to defrost 36 hours prior to using. Best if used before 7 days after thawing. Thawed products can be portioned into ice cube trays to be used at a later time.
Once thawed, feeding amounts will be based on your pet's size and hydration needs — there is no such thing as too much hydration and you can't over-do it! As with any new product you are introducing into your pet's diet, start slowly with 1 oz per meal per 20 lbs of weight and work your way up to an amount that works for you and your pet.
Shake well before use. This product is intended for intermittent or supplemental feeding only and is not meant to serve as a complete diet. Can be served cool or warm, but not hot.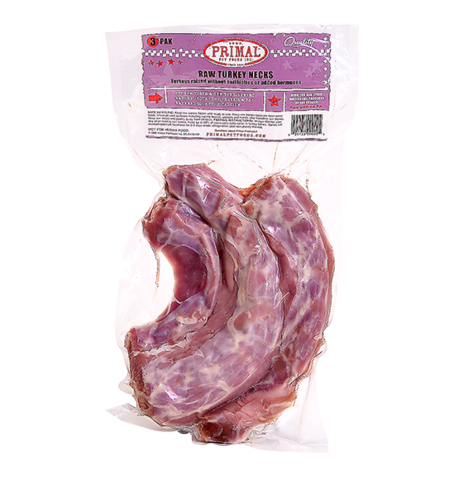 Raw Meaty Bones
Turkey Necks
AVAILABLE IN 3PK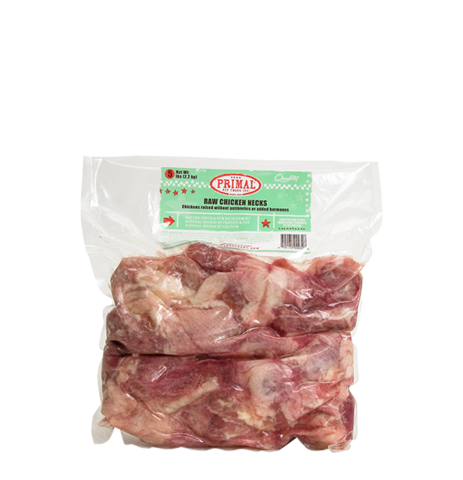 Raw Meaty Bones
Chicken Necks
AVAILABLE IN 6PK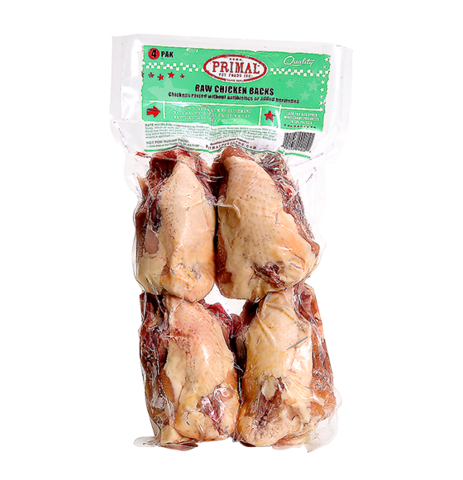 Raw Meaty Bones
Chicken Backs
AVAILABLE IN 4PK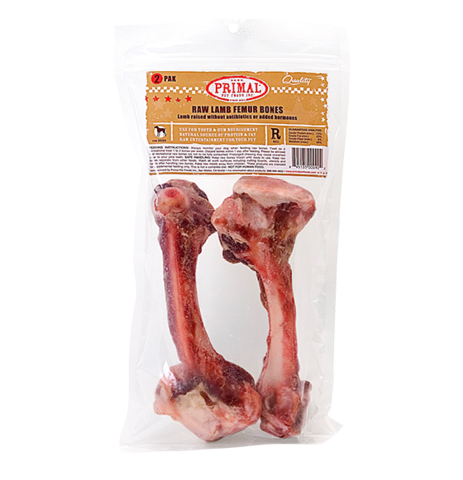 Raw Recreational
Lamb Femur Bones
AVAILABLE IN 2PK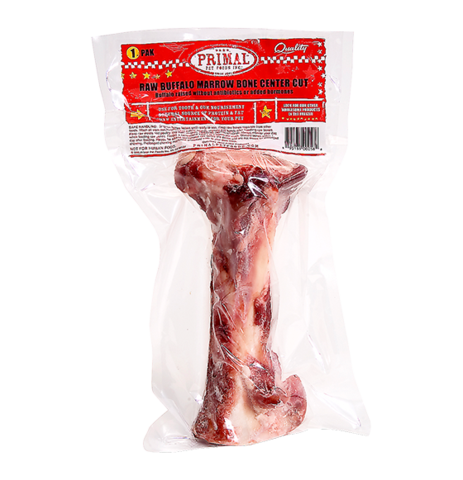 Raw Recreational
Buffalo Marrow Bones
Center Cut
AVAILABLE IN 1PK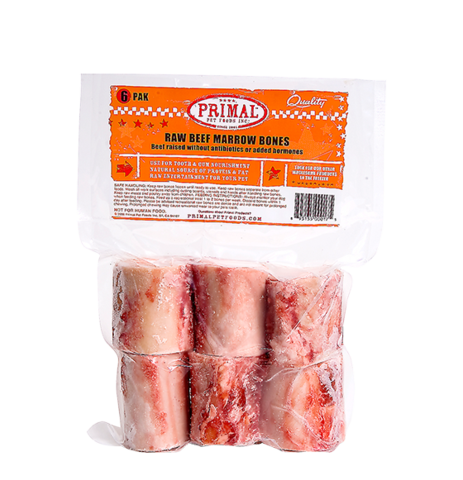 Raw Recreational
Beef Marrow Bones
AVAILABLE IN 6PK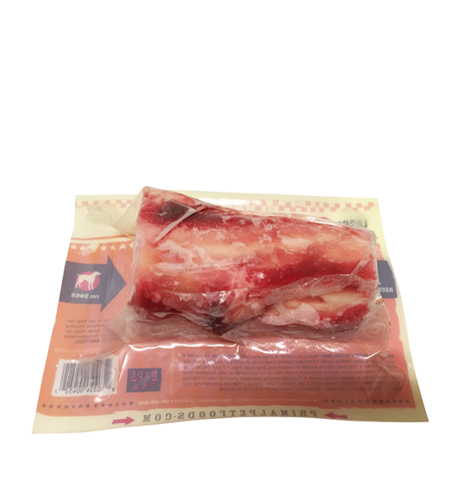 Raw Recreational
Beef Marrow Bones
Small – Medium – Large
AVAILABLE IN 1PK