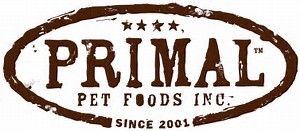 Raw Frozen Grind
Turkey Formula
AVAILABLE IN 2lb CHUBS
Raw Frozen Grind
Lamb Formula
AVAILABLE IN 2lb CHUBS
Raw Frozen Grind
Beef Formula
AVAILABLE IN 2lb CHUBS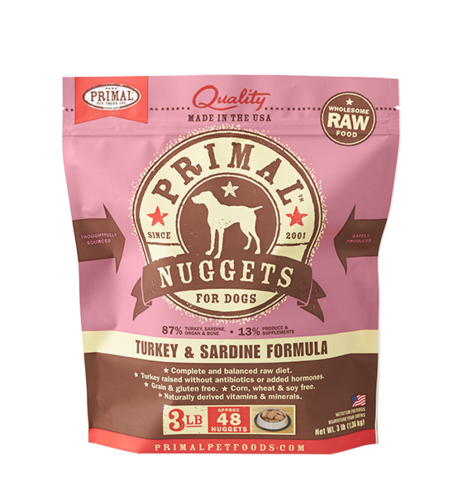 Raw Frozen Canine
Turkey & Sardine Formula
AVAILABLE IN 3lb BAGS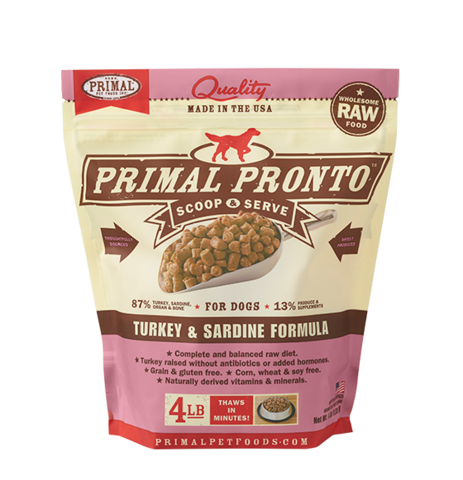 Raw Frozen Canine
Turkey & Sardine Formula
AVAILABLE IN 4lb BAGS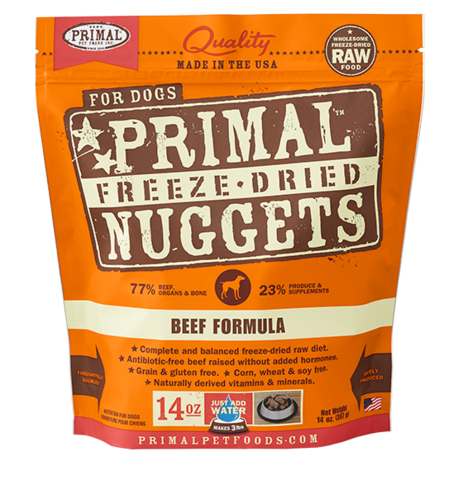 Raw Freeze-Dried
Canine Duck Formula
AVAILABLE IN 14oz AND 5.5oz BAGS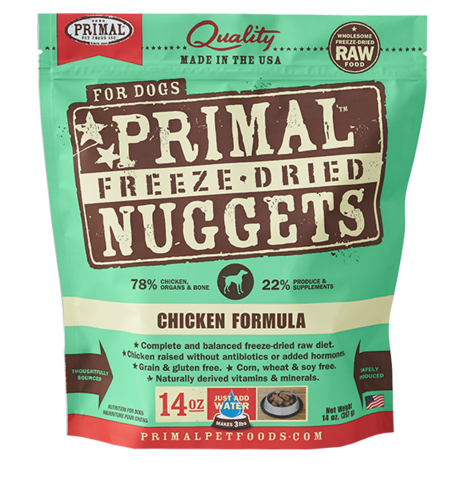 Raw Freeze-Dried
Canine Chicken Formula
AVAILABLE IN 14oz AND 5.5oz BAGS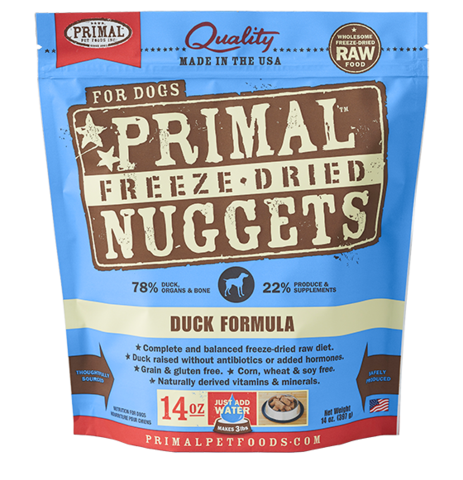 Raw Freeze-Dried
Canine Duck Formula
AVAILABLE IN 14oz AND 5.5oz BAGS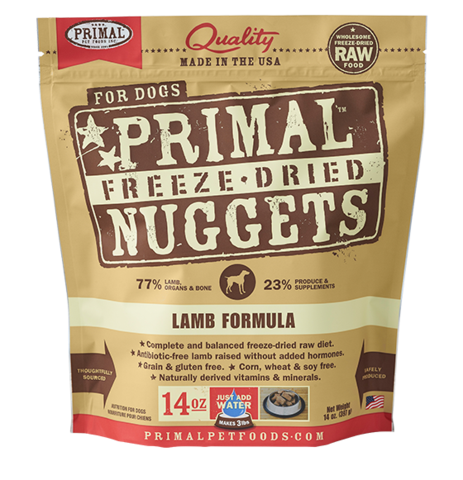 Raw Freeze-Dried
Canine Lamb Formula
AVAILABLE IN 14oz AND 5.5oz BAGS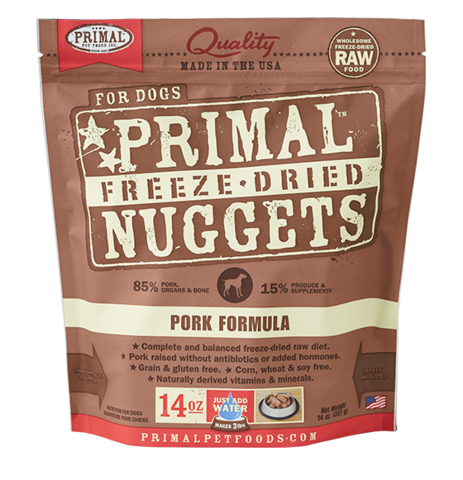 Raw Freeze-Dried
Canine Pork Formula
AVAILABLE IN 14oz AND 5.5oz BAGS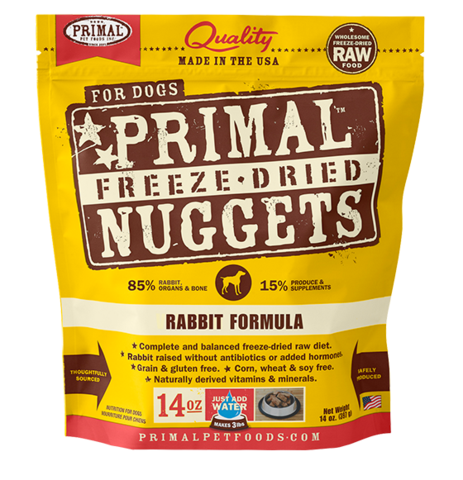 Raw Freeze-Dried
Canine Rabbit Formula
AVAILABLE IN 14oz AND 5.5oz BAGS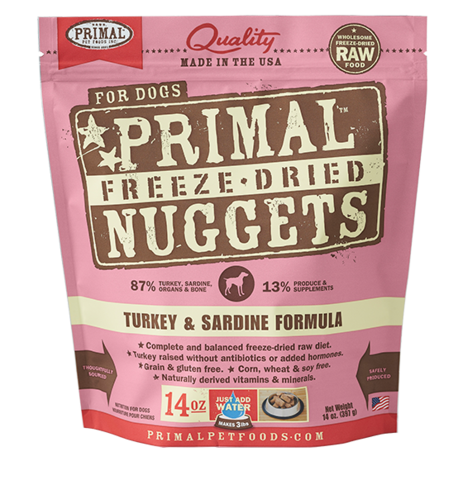 Raw Freeze-Dried
Canine Turkey & Sardine Formula
AVAILABLE IN 14oz AND 5.5oz BAGS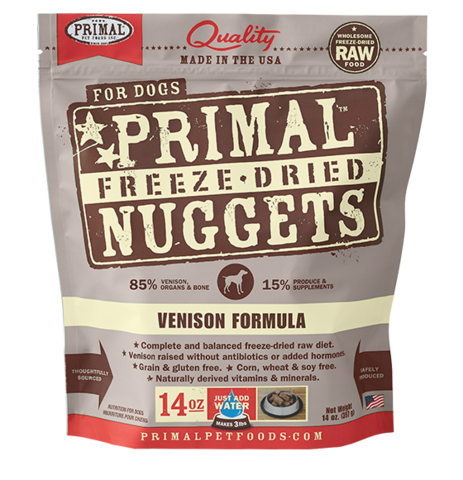 Raw Freeze-Dried
Canine Venison Formula
AVAILABLE IN 14oz AND 5.5oz BAGS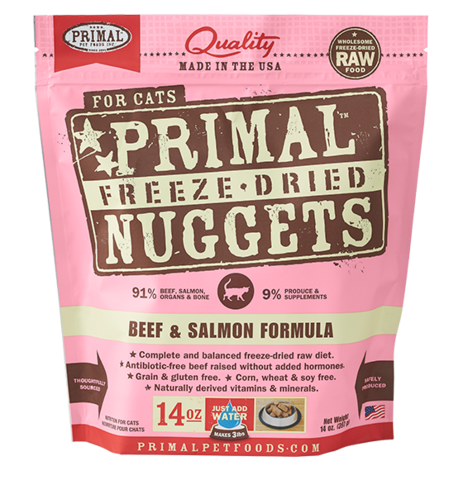 Raw Freeze-Dried
Feline Beef & Salmon Formula
AVAILABLE IN 5.5oz BAGS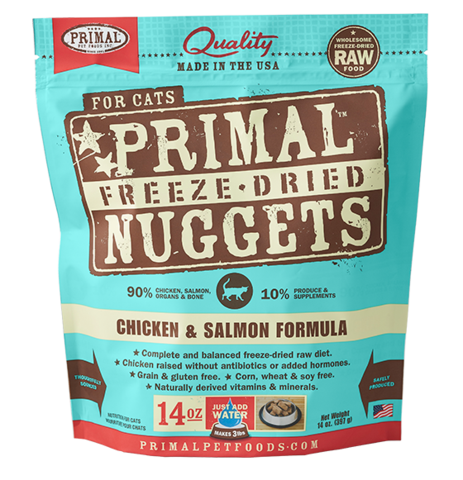 Raw Freeze-Dried
Feline Chicken & Salmon Formula
AVAILABLE IN 5.5oz BAGS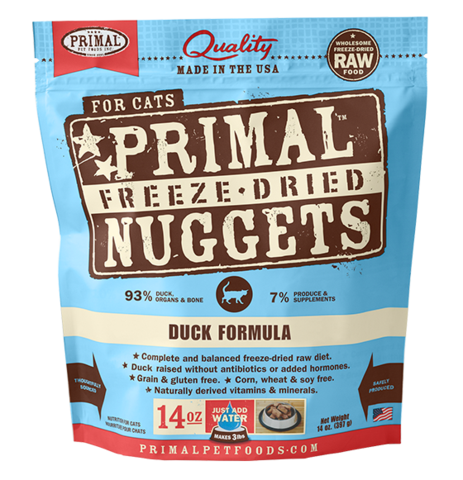 Raw Freeze-Dried
Feline Duck Formula
AVAILABLE IN 5.5oz BAGS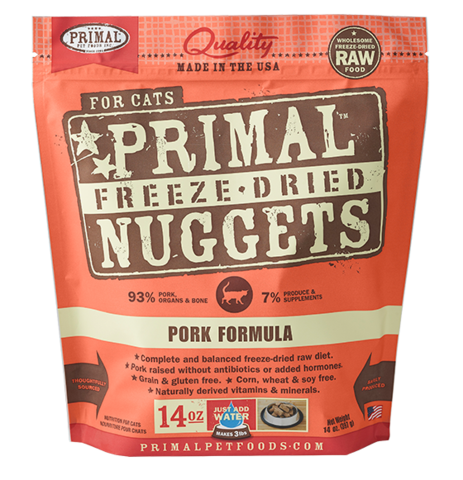 Raw Freeze-Dried
Feline Pork Formula
AVAILABLE IN 5.5oz BAGS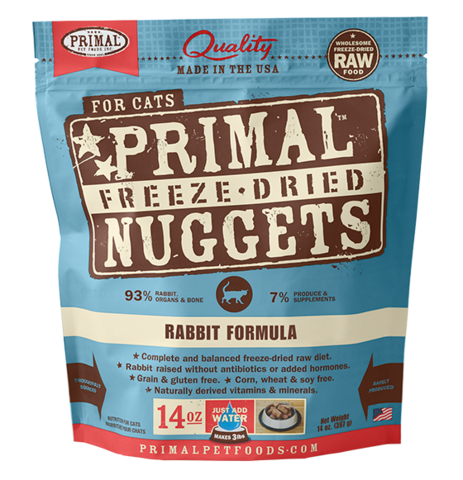 Raw Freeze-Dried
Feline Rabbit Formula
AVAILABLE IN 5.5oz BAGS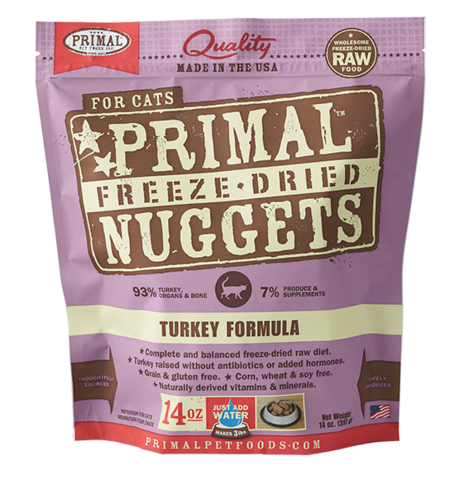 Raw Freeze-Dried
Feline Turkey Formula
AVAILABLE IN 5.5oz BAGS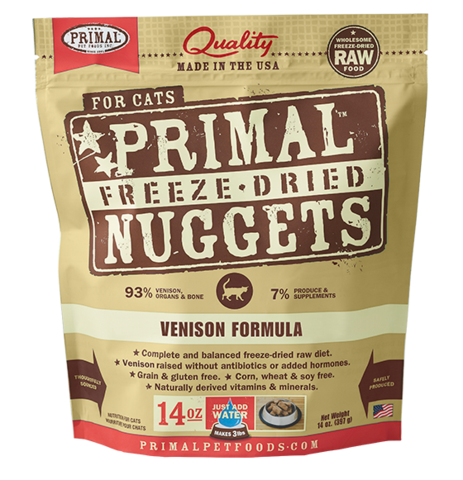 Raw Freeze-Dried
Feline Venison Formula
AVAILABLE IN 5.5oz BAGS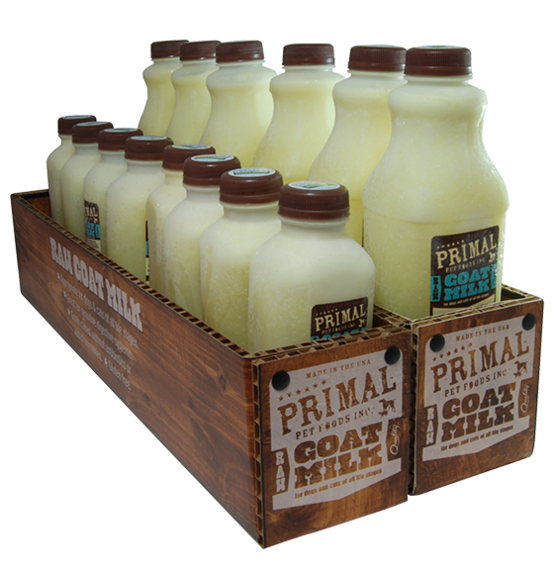 Frozen Raw Goat Milk
AVAILABLE IN 32oz AND 16oz BOTTLES
Primal now offers an additional way to elevate your pet's health with our raw goat milk. Raw goat milk can most easily be absorbed by a variety of mammals and is known as the universal milk, as it contains vitamins, minerals, electrolytes, trace elements, enzymes, protein, and fatty acids.
As with all of our raw products, we recommend a slow transition when introducing new food products to any pet. We recommend starting with ¼ of the daily feeding quantity as an introductory portion.
Primal raw goat milk is a great digestive aid as it helps pets obtain their daily need for moisture. Dogs' and cats' bodies are about 65% moisture and unlike humans, they are designed to obtain the majority of their water from the foods they eat. By adding raw goat milk (79% moisture) to your pet's diet, they will be gaining needed moisture as well as the benefits from raw nutrients
Ingredients: Raw Goat Milk, Dried Lactobacillus lactis fermentation product, Dried Lactobacillus acidophilus fermentation product, Dried Enterococcus faecium fermentation product, Inulin, Organic Turmeric (color), Organic Ginger, Organic Cinnamon.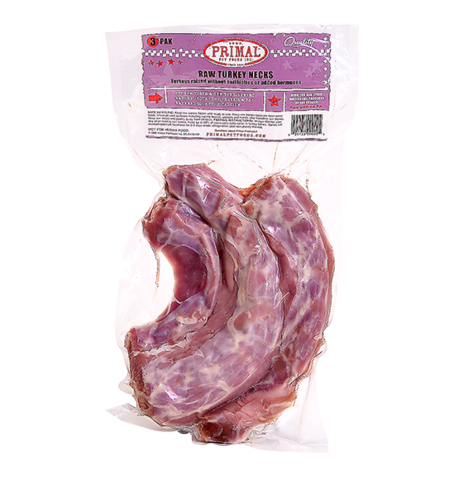 Raw Meaty Bones
Turkey Necks
AVAILABLE IN 3PK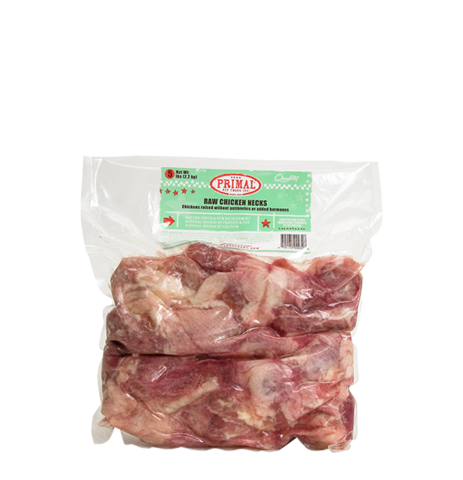 Raw Meaty Bones
Chicken Necks
AVAILABLE IN 6PK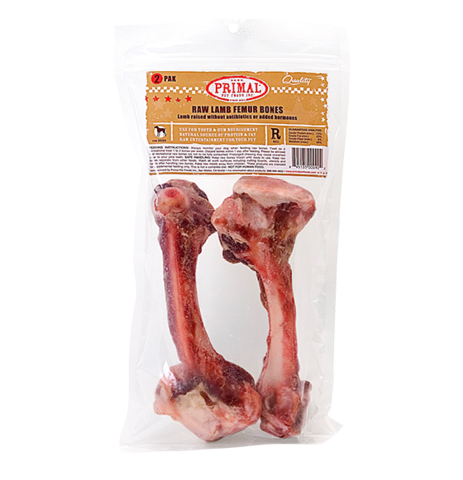 Raw Recreational
Lamb Femur Bones
AVAILABLE IN 2PK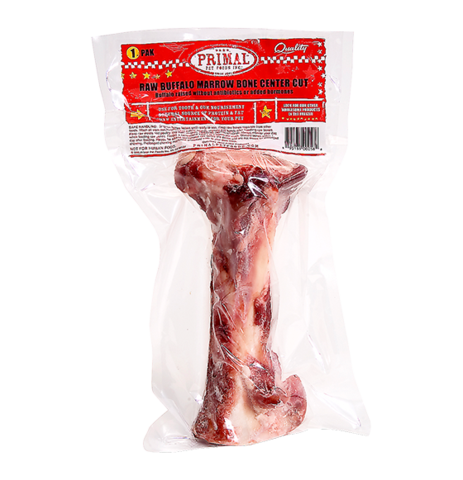 Raw Recreational
Buffalo Marrow Bones
Center Cut
AVAILABLE IN 1PK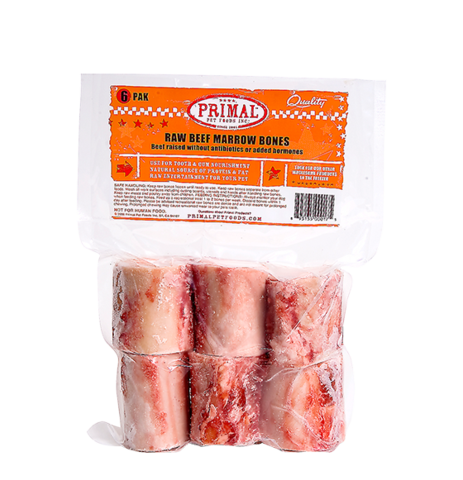 Raw Recreational
Beef Marrow Bones
AVAILABLE IN 6PK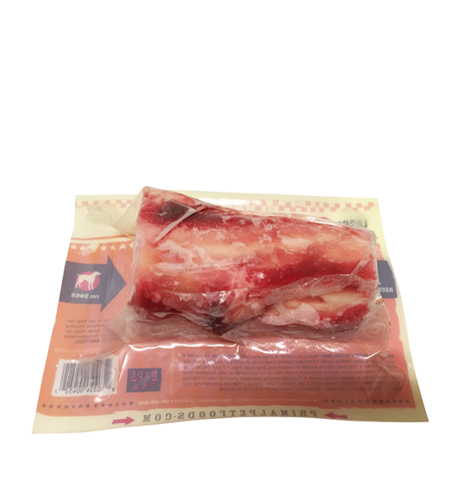 Raw Recreational
Beef Marrow Bones
Small – Medium – Large
AVAILABLE IN 1PK